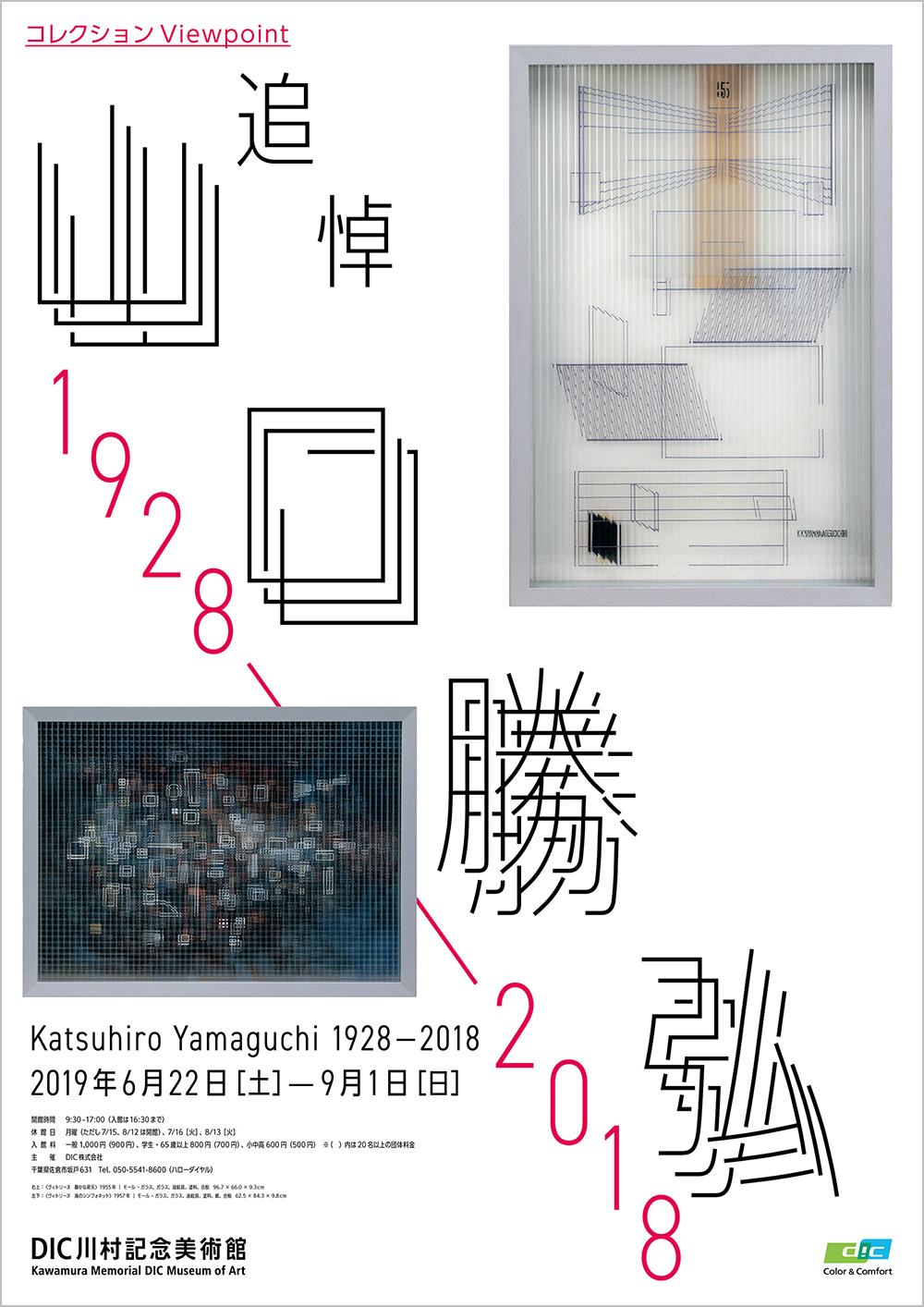 Collection Viewpoint:
Katsuhiro Yamaguchi 1928-2018
June 22 - September 1, 2019
Hours:

9:30-17:00 (last admission 16:30)
Closed:

Mondays (except Jul. 15, Aug. 12), Jul. 16, Aug. 13
Organizer:

DIC Corporation
Museum Admission
Adults

¥1,000

College / 65 and over

¥800

Elem / JH / HS

¥600
Groups of 20 or more:
Adults

¥900

College / 65 and over

¥700

Elem / JH / HS

¥500
Persons with a disability pass:
Adults

¥800

College / 65 and over

¥600

Elem / JH / HS

¥400
*The same ticket enables viewing of the other works from the museum's collection.
- For students and seniors over 65, discounts require identification such as a Student ID, passport or driver's license.
- For persons with a disability pass=the same discounted price applies for one accompanying care-giver for each disability pass holder
Outline
This summer, as a display from the DIC collection, we present in one showing a group of around 20 early works by Katsuhiro Yamaguchi, in honor of the first anniversary of the artist's death in May of 2018.
Visitors will see highly experimental works such as ones from Yamaguchi's early "Vitrine" series using patterned (Mol) sheet glass on which images painted in oils or the like were layered in a way that made the images move as the viewer moved in front of them. In these and the other works displayed, visitors will discover the artist's playful imagination and the resulting fresh viewing experiences.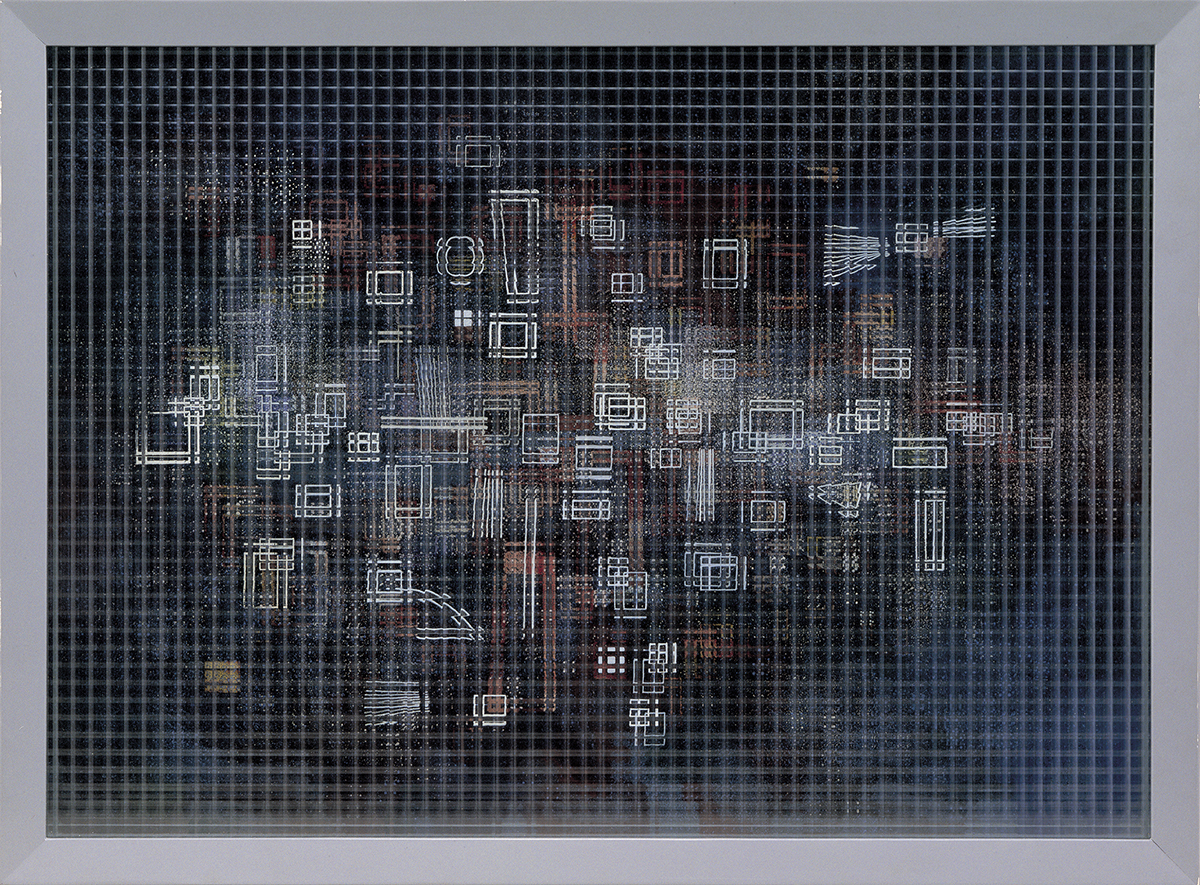 Vitrine: Marine Symphonette, 1957, Mol glass, oil and paper on glass sheets, painted plywood,
Kawamura Memorial DIC Museum of Art
Using the latest technologies of each era to work with light, video and sound, Katsuhiro Yamaguchi transcended the traditional frameworks of painting and sculpture in creating experimental works that would come to be newly classified as 'media art'. He would become a central member of the Jikken Kobo, or Experimental Workshop, formed in 1951 in line with the artistic ideals laid down by Shuzo Takiguchi, and later he would go on to gain recognition for activities as a founding member of the group Video Hiroba, or Video Plaza, with artists like Fujiko Nakaya. In addition to work as an artist, Yamaguchi was also respected as an educator, teaching at the University of Tsukuba and other institutions, as well as for his numerous writings such as Futeikei Bijutsu Ron (Free Forms and Concepts in Art, 1967), and his activities as an influential art critic.
On the occasion of the first anniversary of the passing of Katsuhiro Yamaguchi, Kawamura Memorial DIC Museum of Art presents an exhibition focusing mainly on the representative series of "Vitrine" and "Fabric Sculpture" (stretched-cloth sculpture) from the early period of the artist's long career defined by a diversity of artistic activities.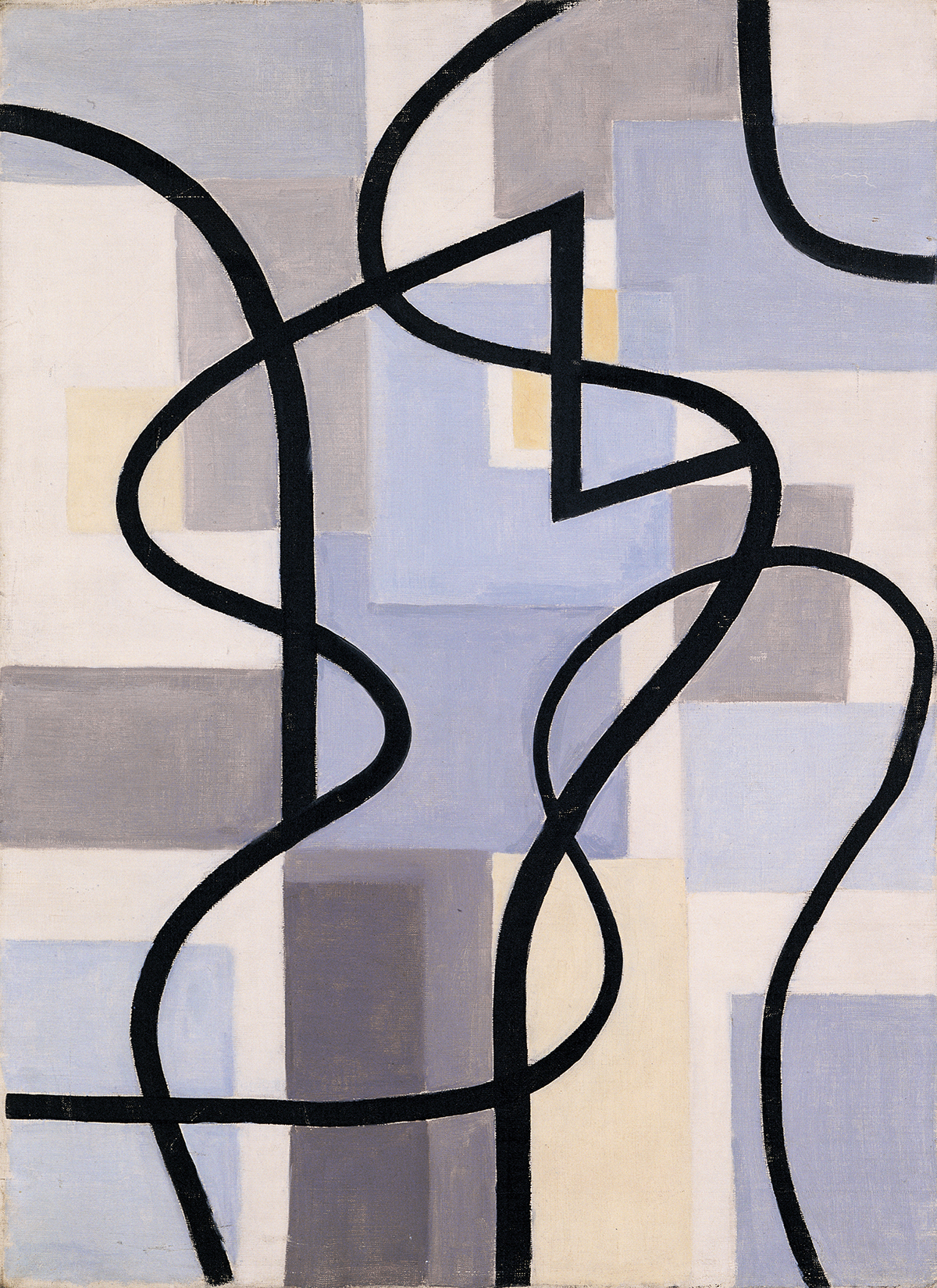 Work 1948, 1948, oil on canvas,
Kawamura Memorial DIC Museum of Art
---
Works Exhibited
The artist himself has said: "Nothing is more depression to me than the sense of gravity that accompanies works of so-called 'fine art' conforming to the frameworks of painting, sculpture, architecture and the like. (…) My work, since my Vitrine series, is a challenge against gravity." (From Bijutsu Techo Special Edition May 1963, Bijutsu Shuppan-sha) The works selected for this exhibit all show aspects of this 'challenge against gravity'.
The representative works from Yamaguchi's 20s known as the Vitrine series were box-like works that used multiple layers of Mol glass with undulating surface patterns on which images were painted. With this structure, the images painted on the different layers of glass would rise and fall as the viewer's vantage point changed, thus creating a vacillating visual effect.

Also, on view will be examples of the "Fabric Sculpture" (stretched-cloth sculpture) that Yamaguchi began to introduce from 1962, a sculpture series consisting of linen cloth stretched on metal frames in 3-dimensional shapes. As if in defiance of the common assumption of 'sculpture' as works subject to the force of gravity that are displayed standing on the floor or ground, Yamaguchi's works of this series—which he deliberately called "sculpture"—had hollow insides, making them light enough that they could be hung easily on gallery walls instead of sitting on the floors.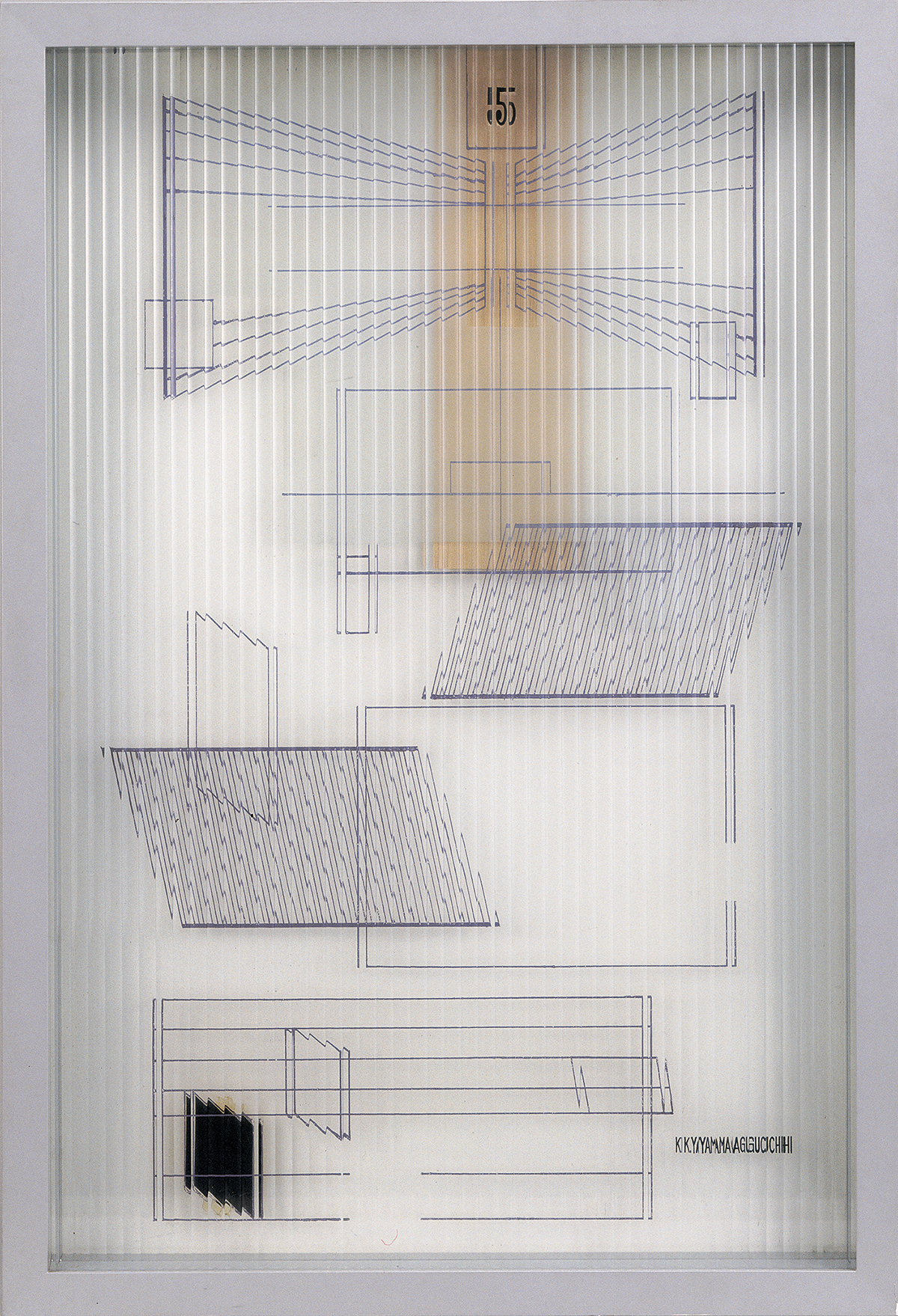 Vitrine: Quiet Ascension, 1955, Mol glass, oil on glass sheets and painted plywood, Kawamura Memorial DIC Museum of Art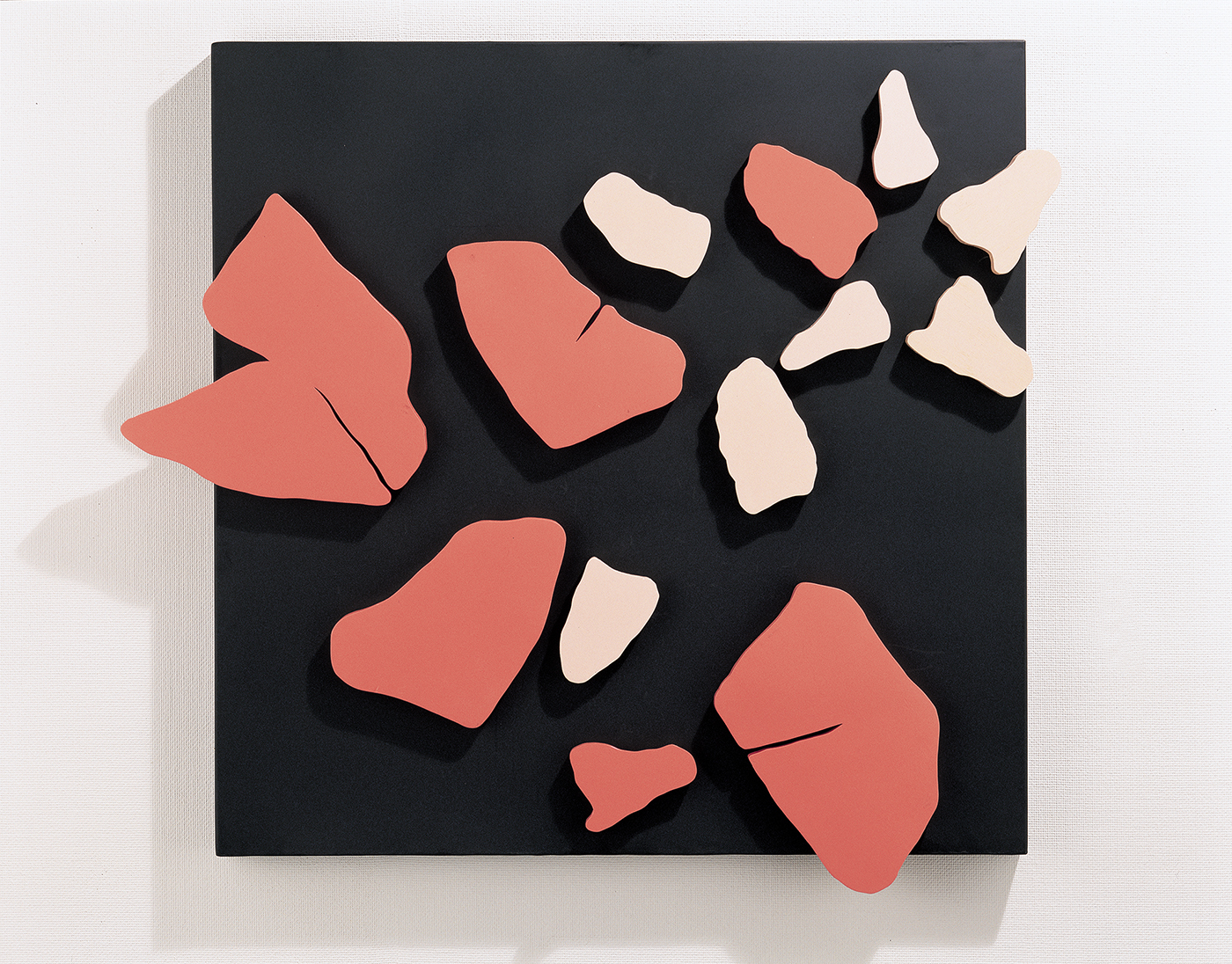 Magnetic Relief No. 1, 1963, painted wood, magnets and iron, Kawamura Memorial Museum of Art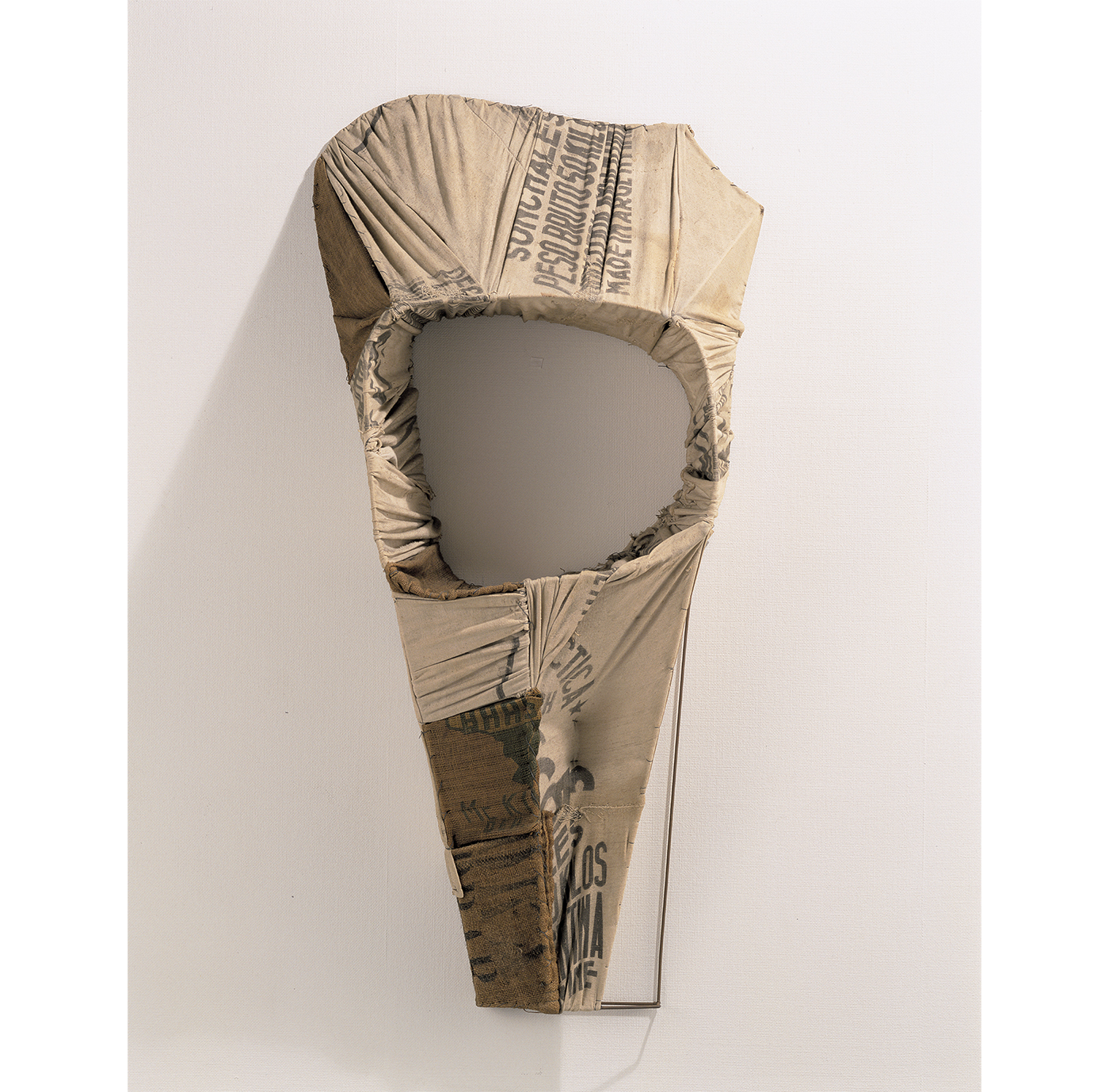 Coffin for the Wind, 1962, linen cloth, iron,
Kawamura Memorial DIC Museum of Art