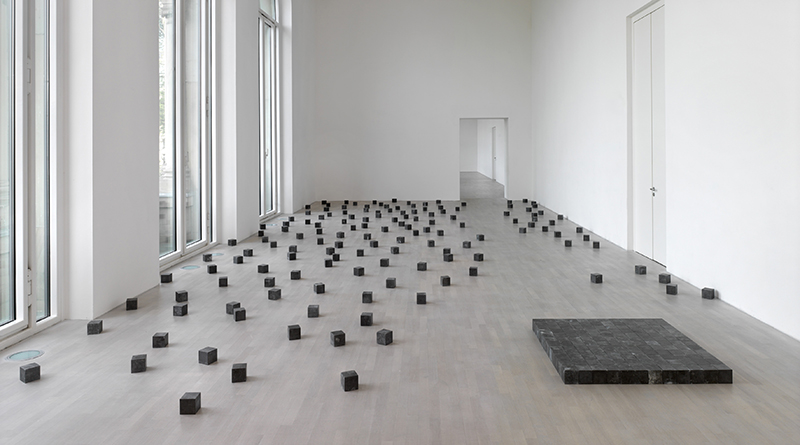 Minimal/Conceptual:
Dorothee and Konrad Fischer and the Art Scenes in the 1960s and 1970s
October 9, 2021 - January 10, 2022
Closed:

Mondays (except Jan. 3 and 10), Dec. 25 - Jan. 1
Organizer:

DIC Corporation, Kyodo News
Co-organizer:

Kunstsammlung Nordrhein-Westfalen, Düsseldorf
With cooperation of:

JAPAN AIRLINES
Supported by:

Embassy of the Federal Republic of Germany, Goethe-Institut Tokyo, Chiba Prefecture, Chiba Prefectural Board of Education, Sakura City, Sakura City Board of Education

Carl Andre, Wolke & Kristall / Blei Leib Leid Lied, 1996
Kunstsammlung Nordrhein-Westfalen
© Carl Andre/VAGA at ARS, NY/JASPAR, Tokyo 2020 G2418
This exhibition is co-organized by and based on works from the Kunstsammlung Nordrhein-Westfalen.
Outline
Minimal art is known as a trend in art which developed mainly in the US during the 1960s. Its use of industrial materials and ready-made items such as brick, metal plates, or fluorescent lights and its compositions employing and repeating simple geometric forms like squares and cubes can be cited as general characteristics of this trend. Traces of the artist's emotion and expressions involving gestures are excluded to bring the materiality of the work to the foreground.

In Conceptual art, which appeared after Minimal art and spread during the same period, the idea of the work is more important than the actual object produced. The most significant element in art was considered to be the idea or concept. Without being limited to any particular form, diverse mediums and forms ranging from language, photographs, videos, printed matter, daily use commodities, or natural things to the artist's own body were employed.

The gallery Konrad Fischer opened in Düsseldorf in 1967 became one of the international bases where such new tendencies in art were introduced. While making contacts with young artists in the US and Europe, Fischer realized exhibitions through unconventional processes. Rather than paying a huge sum to transport the finished works from abroad, he invited the artists themselves to Düsseldorf and had them create their works there. Alternatively, based on instructions provided by the artist, Fischer and engineers, etc. would undertake the execution and installation of the display.

Together with his wife Dorothee, Konrad Fischer collected works by the artists whose exhibitions they had organized and, at the same time, recorded and kept multifarious materials such as letters, instructions, or drawings for the display. In this exhibition, with the overall cooperation of the Kunstsammlung Nordrhein-Westfalen, which holds the collection of the late Mr. and Mrs. Fischer, we shall present prized examples of mainly Minimal and Conceptual art from the 1960s to the 1970s and archives concerning their creation. Furthermore, by adding major works from collections in Japan, we shall look back on these artistic trends which, despite their different concerns and characteristics, readdressed the issue of what art is and had a huge impact on the art of the present day.

Artists Represented (tentative)
Carl Andre, Richard Artschwager, Lothar Baumgarten, Bernd and Hilla Becher, Marcel Broodthaers, Stanley Brouwn, Daniel Buren, Hanne Darboven, Jan Dibbets, Dan Flavin, Gilbert & George, On Kawara, Sol LeWitt, Richard Long, Bruce Nauman, Blinky Palermo, Gerhard Richter, Robert Ryman