Overlapping Circles
5 Artists Collaborate with the Collection
June 16 - November 29, 2020
Hours:

10:30-16:00 (last admission 15:30)
Closed:

Mondays (except Aug. 10, Sept. 21, Nov. 23), Aug. 11, Sept. 23, Nov. 24
Organizer:

DIC Corporation
Museum Admission
Adults

¥1,300

College / 65 and over

¥1,100

Elem / JH / HS

¥600
Groups of 20 or more:
Adults

¥1,100

College / 65 and over

¥900

Elem / JH / HS

¥500
Persons with a disability pass:
Adults

¥1,000

College / 65 and over

¥800

Elem / JH / HS

¥400
*Admission also includes entrance to the permanent collection galleries.
*On May 5 (Children's Festival holiday) admission is free for high school students and younger.
- For students and seniors over 65, discounts require identification such as a Student ID, passport or driver's license.
- For persons with a disability pass=the same discounted price applies for one accompanying care-giver for each disability pass holder
Outline
In celebration of the 30th anniversary of the founding of the Kawamura Memorial DIC Museum of Art, this exhibition has been planned as an opportunity to show works from our collection in collaboration with contemporary artists.
As seen in the ceiling lighting and stained glass of the Museum's Entrance Hall, the building adopts a design motif of "overlapping circles" in a number of places. Included in the meaning of this motif is symbolism of the bond of friendship between the Museum's founder Katsumi Kawamura and the architect Ichiro Ebihara, as well as the encounters between museum visitors and the works of art.

As suggested by its title 's reference to this motif, the exhibition offers overlapping experiences of five front-line artists through their encounters with works from the Museum's collection.

The interpretations of works from our collection by these contemporary artists inspire new works displayed in installations along with collection pieces.

We hope you will enjoy the reverberations born of these collaborations that reach across time to join art of different decades.
Artists displayed:
Hiraki Sawa × Cy Twombly
Hiroshi Sugito × Larry Bell
Noguchi Rika × Joan Miró
Naoyo Fukuda × Joseph Cornell
Nobuko Watanabe × Ellsworth Kelly
---
Highlights
Hiraki Sawa (1977- )
× Cy Twombly (1928-2011)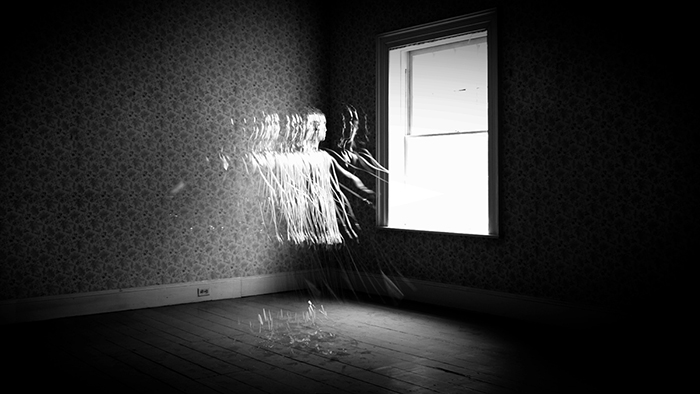 Hiraki Sawa, Souvenir IV, 2012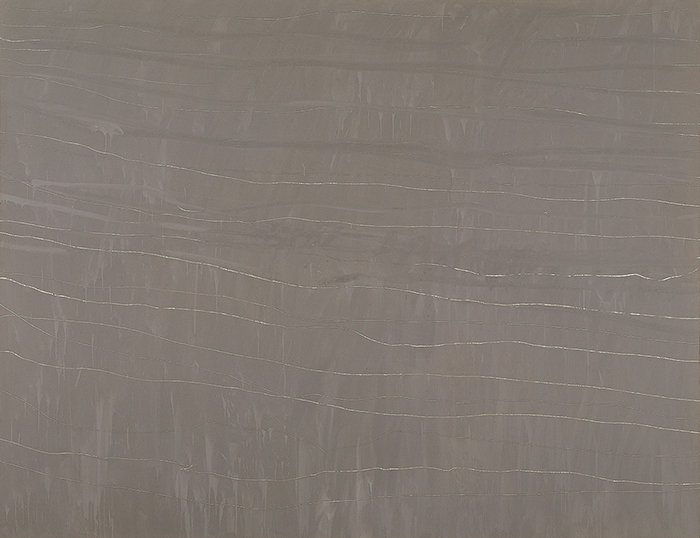 Cy Twombly, Untitled, 1968
Kawamura Memorial DIC Museum of Art
© Cy Twombly Foundation
The abstract painting by Cy Twombly that we see has a number of lines etched across its gray surface from left to right.

We see the way the tip of a white crayon was used to probe the still un-dry painted surface, at times digging into it and then rising again in a way that gives us a tactile sense of the play in the contact of the material media moment by moment as the fine line weaves along its course.

Juxtaposed to this is the video projection by Hiraki Sawa set in domestic spaces like a kitchen and living room where toy airplanes fly by and dishes and stationary move about, and at times allegorical images like a filmed procession of camels are brought into the everyday living spaces to transform these common interiors into scenes out of a fantasy.
Despite there very different modes of expression, we can find numerous similarities shared by the works of Twombly and Sawa.
It can be in the curtness and familiarity, in the clumsiness and the adroit lightness, in the simplicity and subtlety, or the innocence and the delicacy. Or, other than these elements, it can be the unexpected depth of the layers of time that the works generate.

In this exhibition, we introduce works by these two artists including paints and sculpture and some five previously unshown video works in hopes of creating a dialogue in which our thoughts can flow in a unique dimension of "time."

Hiroshi Sugito (1970- )
× Larry Bell (1939- )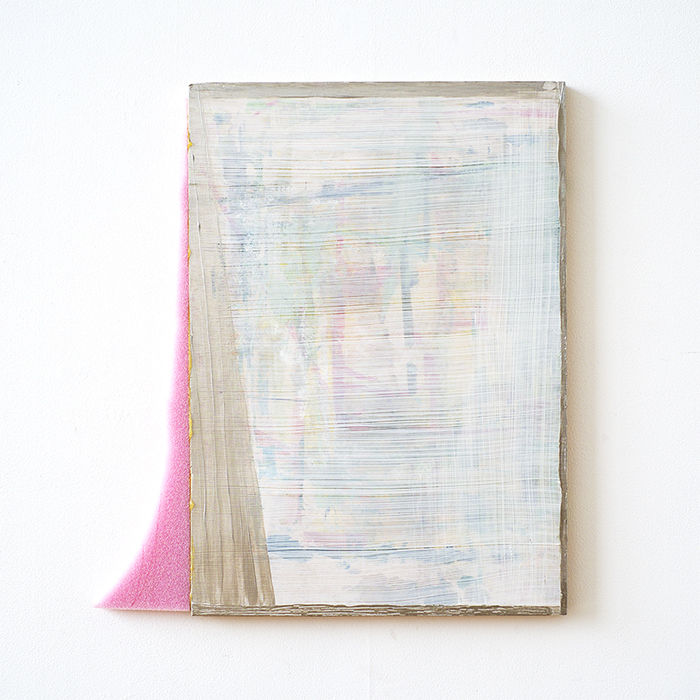 Hiroshi Sugito, Untitled, 2019, Collection of the artist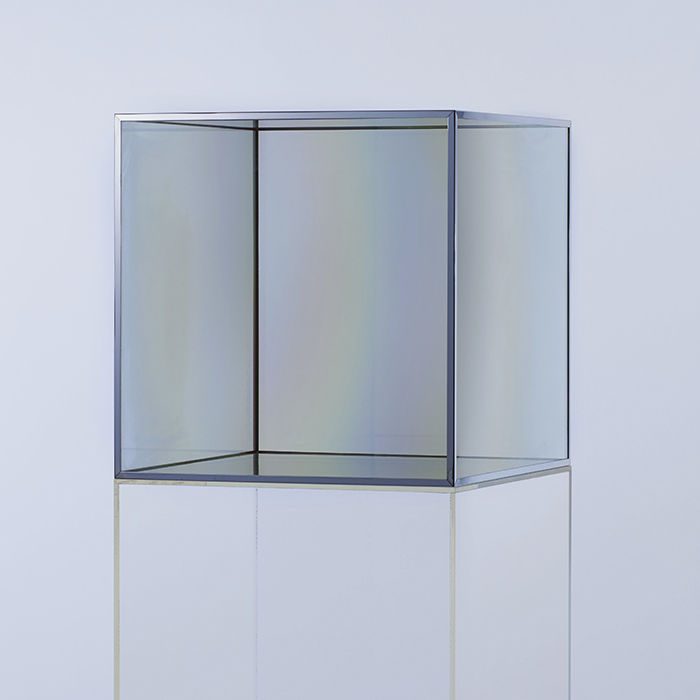 Larry Bell, Untitled, 1969
Kawamura Memorial DIC Museum of Art
© 2019 Larry Bell / ARS, New York / JASPAR, Tokyo G2098
Hiroshi Sugito is an artist who explores the relationship between his paintings and the spaces they occupy. For this exhibition he chose a Minimalist sculpture by Larry Bell and created an installation with it and several of his new paintings.
The Bell work from the Museum's collection selected is a representative work from the artist's early "Cube" series that uses metal vapor deposition processing on glass to create a rainbow-colored effect. Sugito's focus was on the way this cube reflected the light and the surrounding space it occupied and thus functioned as a device to increase the viewer's awareness of the space itself.
For this exhibition, Sugito began by creating paintings that emitted a delicate glow of light to compliment the Bell sculpture. On one side of thiswork he applied pink Styrofoam that provided a delightful contrast of materials.

Furthermore, Sugito designed a wall-like work 3 meters high and 7 meters wide that divides the square exhibit space diagonally. When looked at from the front this wall appears white, but it actually has a 4-layered structure with each layer covered with a different hologram type wallpaper. With the effect of the wall which divides light and dark, the shining holograms, and the surface of Bell's cube, surely viewer attention will naturally be focused on the presence of light.

Noguchi Rika (1971- )
× Joan Miró (1893-1983)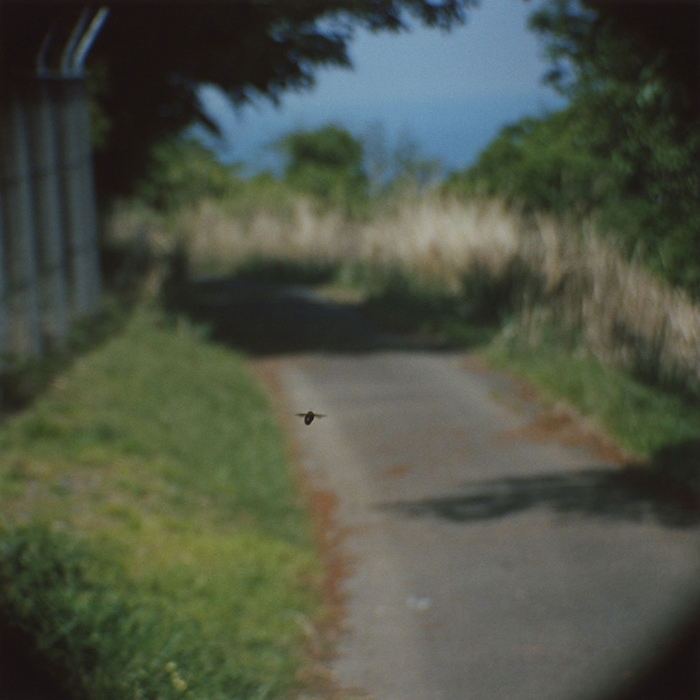 Noguchi Rika「Bumble Bee #1」, 2019
Commissioned by Reborn-Art Festival 2019
© Noguchi Rika, Courtesy of Taka Ishii Gallery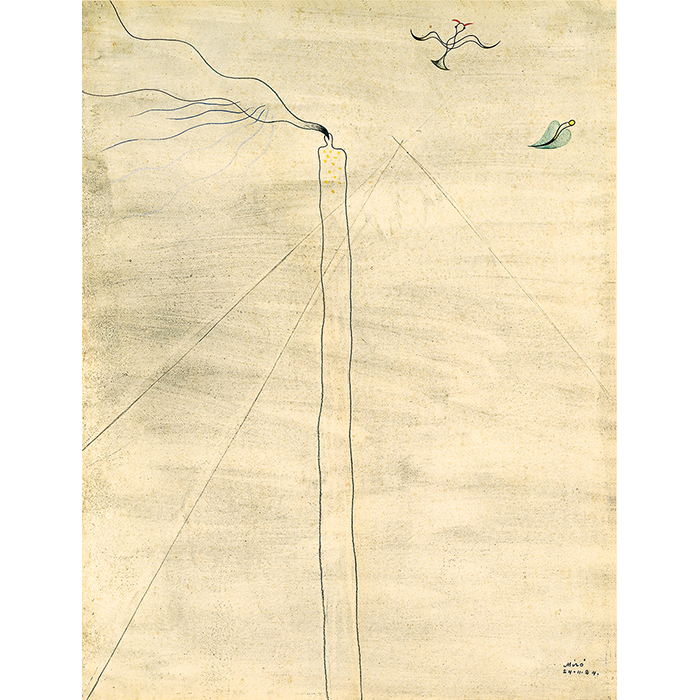 Joan Miró, Composition, 1924
Kawamura Memorial DIC Museum of Art
© Successió Miró / ADAGP, Paris & JASPAR, Tokyo, 2019 G2098
The photographic works of Noguchi Rika encompass both the dynamism of grand-scale perspectives, such as viewing the sea bottom from the air, and capturing the delicate breath of the smallest creatures.

Through Noguchi's lens, the living creatures she captures in clear, bright sunlight naturally perform something close to miracles in everyday scenery that somehow seem to open up pathways to the universe at large.
Noguchi says that when she visited the island of Mallorca of Catalonia, Spain where Joan Miró lived in his later years, she felt a special power brought to the land by its bright sunlight, and with that she sensed an underlying essence that she feels in Miró's work. It is something felt in the unique forms that float about in Miró's art with a magical power like that of an alien from outer space.
In the Miró work Composition in the Museum's collection, a form like a trigonal pyramid stands in the background and in front of it mysterious yellow particles leak from the top of an obellisque. The appearance of the small leaf and the bird dancing in the air seem to be captive to this mysterious energy.

In response, Noguchi created new works with "things flying" and "trees that exchange messages with outer space.

Naoyo Fukuda (1967- )
× Joseph Cornell (1903-1972)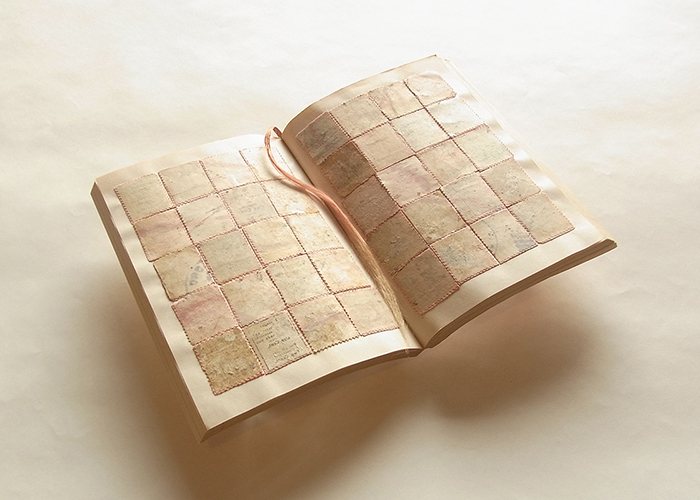 Naoyo Fukuda, A Letter to La Chatte Emaillore
2009-2019, Collection of the artist
© Naoyo Fukuda, courtesy Yukiko Koide Presents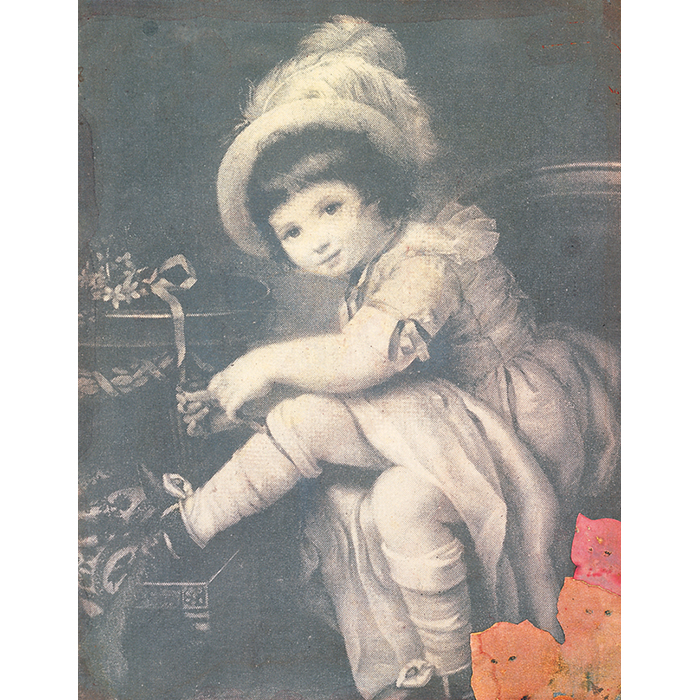 Joseph Cornell, La Chatte Emaillore, 1964
Kawamura Memorial DIC Museum of Art
© The Joseph and Robert Cornell Memorial Foundation / VAGA at ARS, NY / JASPAR, Tokyo 2019 G2098
Naoyo Fukuda is an artist who turns books and stationary into sculptures, art objects or collages through elaborate and repeated hand work. Joseph Cornell was also an artist who browsed secondhand bookstores and dime stores to find books and small objects from which he made collages and his signature box works.
Whereas Cornell would often use printed reproductions of paintings that he liked or cutouts from magazines along with objects he had created in advance as working materials to combine as elements in the overall compositions of his works, in Fukuda's case, her creative process often takes nostalgic items from her childhood that she has kept lovingly for years, transforming them into works of a different nature through internally-motivated hand-working, such as carving, folding, cutting out or embroidering.

In Fukuda's new work A Letter to La Chatte Emaillore that resonates with the Cornell collage selected this time from the Museum's collection, she has pasted stamps peeled off old postcards onto the pages of a paperback book. Cornell also liked to collect and use stamps in his creations.
In addition to her art creations, Fukuda also creates kaibun, or the Japanese equivalent of palindrome. We hope that from this exhibition, viewers will see that her art and circulating letters are indissolubly joined as forms of expression born from the same source, for the artist who sees the world as a compilation of "particles of words" and works in the realm between which the existence and non-existence of words and things melt together.

Nobuko Watanabe (1948- )
× Ellsworth Kelly (1923-2015)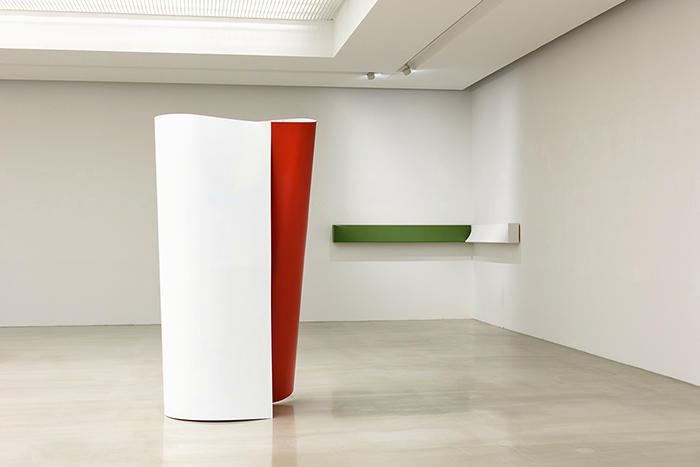 Nobuko Watanabe, White and Red, 2017, Arario Gallery
Dark olive green and White -Corner piece, 2017, Cllection of the artist
photo credit: Arario Gallery, Courtesy of Arario Gallery, Seoul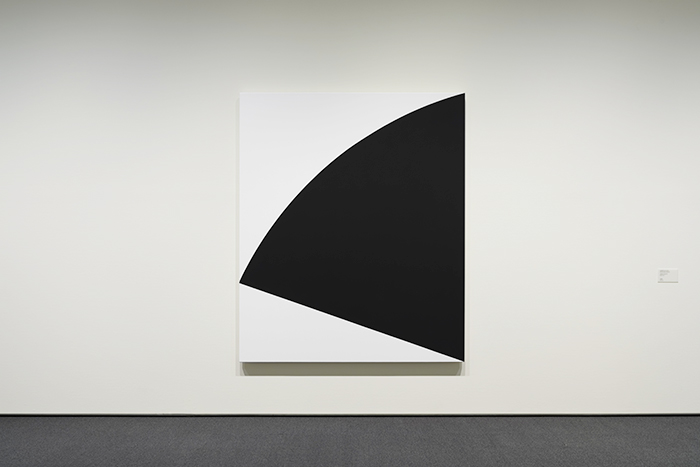 Ellsworth Kelly, Black Curve, 1994
Kawamura Memorial DIC Museum of Art
© Ellsworth Kelly Foundation
The works of Nobuko Watanabe are made by fitting pieces of readymade cloth around a wooden frame. Although wooden frames and cloth are the materials used for painting supports, Watanabe does not paint on them but takes cloth selected for their colors and textures and uses the shape of the wooden frame to achieve a variety of expressive qualities.

The bold but finely nuanced forms she creates have aspects of both 2- and 3-dimensional works and she places them on the gallery walls, on the floor and in the gallery's corner spaces. In this way she creates Watanabe realm of art that is neither painting nor sculpture in the usual definition and possessed of a lightness and clarity all her own.
One of the artists Watanabe cites among those she loves the most is the American painter Ellsworth Kelly, whose paintings were executed in flat areas of color in what came to be known as the "hard edge" style.

Kelley was an artist who began to make three-dimensional works using metal plate from early on in his career and continued pass easily across the boundary between painting and three-dimensional works, and he also created shaped canvases of wooden panels and cloth that made his color surfaces seem to emerge into the third dimension like reliefs. In this sense, we find clear elements in common between his work and that of Nobuko Watanabe.
In addition to her cloth works with increasingly developed and refined forms of recent years, Watanabe has also begun to make metal sculptures. The artistic collaboration involving these two artists this time is likely to lead to even more interesting developments.
---
Programs
Talk events involving the exhibiting artists
Cancelled
March 21 (Sat.) Hiraki Sawa (Video artist)
April 21 (Sat.) Noguchi Rika (Art photographer)
May 23 (Sat.) Naoyo Fukuda (Artist)
June 13 (Sat.) Hiroshi Sugito (Artist)
July 4 (Sat.) Nobuko Watanabe (Artist)

Gallery Talks by the Curator
Cancelled
March 28 (Sat.)
April 25 (Sat.)
May 30 (Sat.)
June 27 (Sat.)
July 11 (Sat.)
- No reservations required
- Gather at the Entrance Hall 14:00
- Free with Museum admission